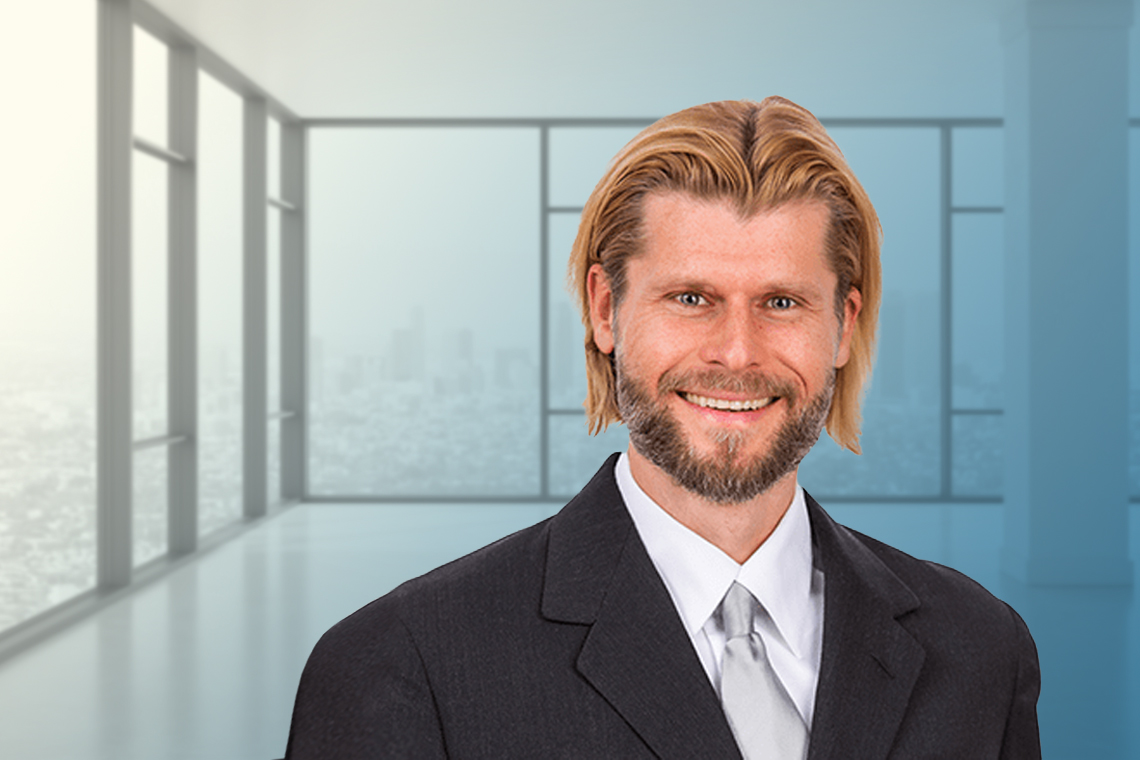 Selected Work History
Xilinx
Cisco Systems
LSI/Broadcom
Stanford University
Stryker Instruments
Interdigital
Several startups, law firms, and consulting
Erik V. Chmelar
OF COUNSEL
ECHMELAR@DILWORTHIP.COM
LinkedIn
Erik Chmelar earned his PhD from the Center for Reliable Computing at Stanford University and spent 15 years in R&D before becoming a patent attorney. He has subject-matter expertise in hardware and software systems, and over 30 granted patents in areas that include high-speed digital circuits, complex algorithms, and PHY interfaces. Erik has been a practicing patent attorney for 5 years, focusing on harvesting inventions, drafting patents, and creating/analyzing claim charts for licensing and litigation.

Erik has hands-on R&D experience in many industries and with many technologies, from medical robotics to silicon photonics. As a consequence, he naturally engages with scientists and engineers at a deeply technical level and quickly establishes productive relationships.

Erik takes pride in simplifying complicated inventions and sophisticated opinions into manageable parts and describing them with accessible language. His technical writing is clear and precise, and his legal writing is compelling and persuasive.
Accomplishments
Granted more than 30 patents as inventor
Prosecuted more than 100 patent applications
Taught undergraduate and graduate-level courses in electrical and computer engineering
Served as an Expert Witness for litigation/IPR in the field of semiconductor memory
Created licensable patent portfolios for 5G technologies through external innovation partnerships
Mentored and instructed for the National Science Foundation's I-Corps (innovation) program
Founded a company that achieved $1M revenue prior to negotiating an IP licensing/royalty deal
Technology Areas



Circuits

Digital/mixed-signal hardware/design (VLSI)
Reconfigurable computing (e.g., FPGA)
Sensors (semiconductor, optical, photonic, biometric)



Computing

Machine learning and artificial intelligence (ML, AI)
High-performance computing (HPC)
Automation (Autonomous vehicles, IoT)



Communication

High-speed serial (SerDes PHY)
Wireless radio area networks (LTE, 5G RAN)
Standards-essential patents (3GPP SEPs)
Admitted to Practice
2018, Licensed Attorney, State Bar of Michigan
2010, Licensed Professional Engineer, Michigan Dept. of Licensing and Regulatory Affairs
2007, Registered to practice before the U.S. Patent and Trademark Office
Education
2017, University of Michigan Law School, J.D.
2013, Western Michigan University, M.B.A. Management
2011, Saginaw Valley State University, B.S. Chemical Physics
2004, Stanford University, Ph.D. Electrical Engineering
2001, Stanford University, M.S. Electrical Engineering
2000, Michigan Technological University, B.S. Electrical Engineering
Professional Organizations
Project Management Institute, Certified Agile Practitioner (2014 – present), Certified Project Management
Professional (2015 – present)
Association for Computing Machinery (2018 – 2019)
Accreditation Board of Engineering and Technology, Program Evaluator (2013 – 2018)
Institute of Electrical & Electronic Engineers, Senior Member (2004 – 2018)
American Chemical Society (2013 – 2016)
National Science Foundation I-Corps, Industry Mentor (2013), Instructor (2015)
American Society of Mechanical Engineers (2014 – 2015)
International Society of Optics & Photonics (2015)
Articles by Erik
Patent Subject Matter Eligibility under 35 U.S.C. § 101
Pseudocode for Invention Disclosures and Patent Applications
Best Practices For Invention Disclosure Forms